Our editor is designed to give warnings when what you see on the screen may not match what you want to print. Here are the most common warnings you may see while designing your project: 
Low Resolution Warning
"Image resolution is low."
This warning is set to prompt an image that may not print the most crisp at the size chosen, but the orange warning itself will not print. The photo will print pretty true to what you see on the screen with some loss of quality. Unfortunately we cannot guarantee any image with a low resolution warning will print great, but this will give you an idea.
What to do: We recommend moving images that are low resolution into smaller layouts within the editor, to condense the pixels and help the image print more clearly. You can also remove the image from your project. 
Color Profile Warning
"Incorrect Color Profile: _____." 
This warning is designed for when images are in a color profile that is not supported by our system, therefore meaning the colors of the image could be drastically skewed during printing. Our printers are optimized for the sRGB color profile, so each image will need to be converted to sRGB before uploading to our site.
We are not able to change the color profile of images on our end, before or after ordering.
What to do: You'll need to change the color profile of each of your images to ensure the colors stay true from screen to print. For more information on how to change your color profile, click here. 
Blank Page Warning
"Oops! You have one or more blank image boxes in your project. Areas with empty image boxes will print blank. Click CANCEL to edit and add images or click OK to order as is."
The blank page warning is detecting a layout in the editor that was not filled in. For example, if you added any images and created a custom layout, it will detect a blank page.
What to do: Double check your project before adding it to the cart. Delete blank pages by going to the Organize tab, selecting the page you want to delete, and clicking the blue trash can below each spread. If you do not see any blank pages in your project, then you're good to go.
Where will these warnings appear in the editor?
Warnings will appear in the top right corner of the editor - click the small ! symbol to see the details of each warning.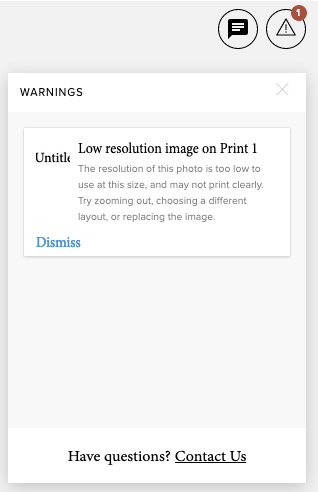 ^ low resolution warning on print